External Benefits
All employees that work an average of 30 or more hours a week are eligible for the following benefits after their 90-day probationary period is complete. Employees can also enroll during open enrollment which is December 1. Benefits enrollment forms are completed through Bamboo. Please contact HR for any further details.
We work with HUB International Consulting Group. Please feel free to reach out to any of their team members for assistance or with questions about our various coverages, they are here to help!

OUR SERVICE TEAM
Tanya Pritchard . 919) 755-3255 . tanya.pritchard@hubinternational.com
Allison Sabin . (919) 755-3241 . allison.sabin@hubinternational.com
Barbara Josselyn . (919) 755-3290 . barbara.josselyn@hubinternational.com
Hal Worthington . (919) 755-3241 . hal worthington@hubinternational.com
Health Insurance
BlueCross BlueShield of NC // Group # 082260
TVRH Durham offers two health plans through BCBSNC, the Base plan and the Buy-up plan. The Base plan is a high deductible HSA plan and the Buy-up plan a standard PPO plan.
Base Plan - A higher deductible health plan option with an Health Savings Account (HSA) bank account feature that lets you save money as a before tax deduction and features a TVRH matching contribution for current or future medical expenses. Triangle Veterinary Referral Hospital will match your HSA contributions up to $800 annually if you are enrolled in the HSA-qualified health insurance plan.
Buy-up Plan - A Preferred Provider Organization (PPO) plan that offers in-network and out-of-network coverage
Both plans include additional features to provide you with the information and resources to stay on top of your healthcare needs.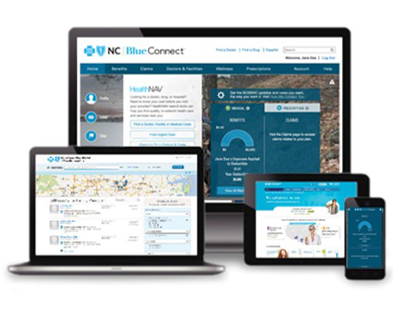 BlueConnectNC.com - online tools to help you find answers about your plan and benefits, including up to date information on your claims and deductible. It also includes health and wellness tools such as Blue365 which gives you special savings on health products and services, including gym memberships, laser eye surgery, eye care, healthy eating and family activities; and Health Line Blue which lets you call a nurse 24 hours a day, 7 days a week, to get answers to your health and wellness questions.
See a doctor from home, at work or on the go. Your plan offers telehealth services from MDLIVE. These secure video consults are a good option for minor health issues and allow you to skip the waiting room. Video consults available 24 hours a day, seven days a week (even holidays) and no appointment is required.
Visits are treated the same as an office visit with your primary care doctor. If your have the PPO plan you'll pay the usual co-pay for a doctor's visit of $35. If you have the HSA, you'll pay $45 and you can you the money in your Health Savings Account.
Dental
Mutual of Omaha // Group #G000AYYR
Our dental plan offers in-network and out-of-network coverage with a $50 annual deductible for services. There is no deductible for preventative care. This benefit has a $1000 annual maximum.
Vision
Community Eye Care // Group #Triangvet01
Our vision plan covers your annual exam, contact lens fittings and provides an eyewear allowance.